Accomplished photographer and friend, Jonathan Kingston, just released a fabulous training DVD at Software Cinema for Adobe Photoshop CS4, Photoshop CS4 Basics & Beyond, geared especially for photographers. He's offering our readers four full-length free videos from the DVD so you can see his teaching style and content, as well as a coupon code off the regular price. See end of post for links to the free videos and coupon code.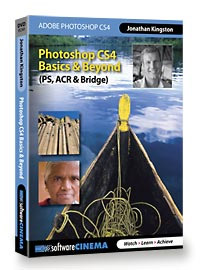 I met Jonathan two years ago at a photography seminar in Molokai,
Rekindling the Creative Spirit
, where I assisted teaching PC users. Jonathan was the Mac, Photoshop, and Lightroom guru! In witnessing him teach the seminar attendees, many of whom were professional photograhers, it was immediately evident how skilled a trainer he was. Currently an instructor for the
Lepp Institute
and skilled photographer, Jonathan is also contracted by many photographers around the country for personal training. So happy to see his dream of having his own training DVD come true! I highly recommend a DVD like Jonathan's for learning efficient image editing workflow techniques.
Here's a quick shot I captured of Jonathan during one of our breathtaking photo shoots on the pristine island of Molokai. As you can see, he uses whatever props necessary to get the shot (I even think he stopped our caravan of vehicles to get this one!). You can see samples of his stunning work on his website.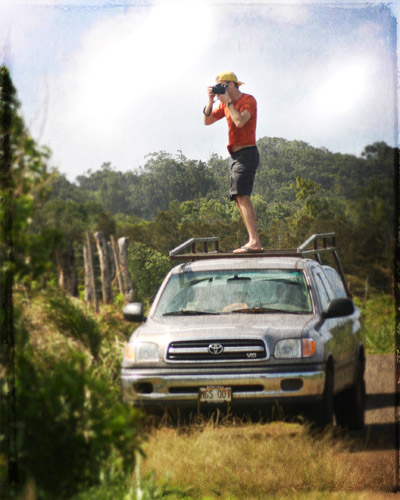 Supplies:
Nature's Sketchbook Photo Art Blends 1
(02 set to Overlay Blend Mode)
On a side note, most of my tutorials on our site and blog use Adobe Photoshop Elements (PSE), as it is the most prevalent image editor for digital scrapbooking. Such a powerful tool for less than $100! Corel Paint Shop Pro (PSP) is also very popular with scrapbookers. My book was written using PSP and I plan to again start offering tutorials for PSP users in the coming weeks. In my own photography and design work, Adobe Photoshop is my tool of choice. My image editing workflow has been greatly streamlined using Adobe Camera Raw within Photoshop, something Jonathan's DVD details.
So, now on to the free stuff from Jonathan and the coupon code for his training DVD!
Four free full-length Adobe Photoshop CS4 video tutorials (You may need to use the scroll bar to see all the links)
Coupon Code for 10% off regular price: JDK-SB
Coupon code expires May 1, 2009. To use the discount code, click on the "Add to Cart" button and enter the code in the "Promo Code" box. Â After that click the "Re-Calculate" button before clicking "Checkout", to see the adjusted price.
Thanks, Jonathan, for offering these videos to us!
Keep learning, everyone!
Michelle