Have scrapbooks replaced your diary? Rejoice...don't feel guilty.
My parents bought me a hard-covered journal for Christmas when I was seven-years-old. I journaled almost everyday from that time until I was eighteen. With adulthood I outgrew the desire to keep it up. I no longer write in a journal or diary on a daily basis. I scrapbook. Scrapbooks probably paint a better picture of our lives than a journal, anyway. But what about all those thoughts and feelings that we normally record in those private books? I try to scrapbook those as well.
Below is a layout that I created for our team challenge to create a page about ourselves. I decided to do it as a heavy journaling layout with the sort of content I would have normally record in a diary. I even wrote the date in the bottom right corner, just like I always did in my old journals. While my thoughts on this layout are personal, I have chosen to share these thoughts in our family album so my children have a better sense of my inner self - my struggles, my joys.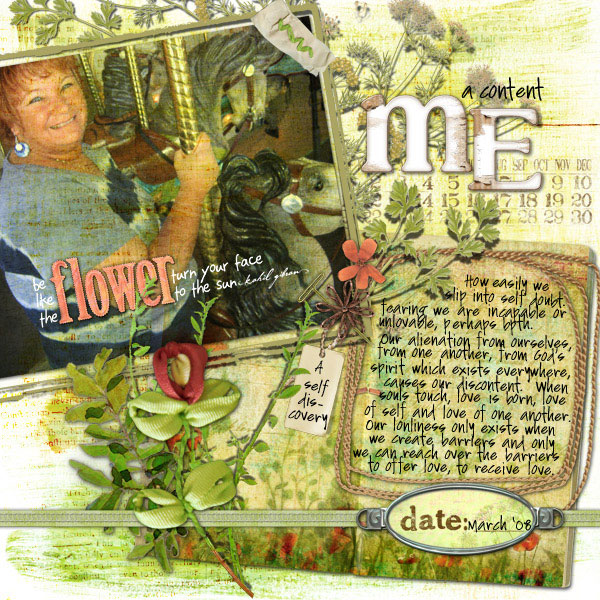 Supplies: Nature's Sketchbook Papers 3 - Simply Spring, Nature's Sketchbook Elements 3 - Simply Spring, Nature's Sketchbook Journals 3, Faint Whispers Page Pak, Miracle of Birth Pak (calendar stamp)

Use a self-portrait layered over a textured paper to create a unique effect. Experiment with the Layers mode in Photoshop, using options such as Overlay, Soft Light and Multiply on multiple layers of the same image to create interesting blending techniques. I blended mine into the soft script background paper using the soft light layer blend mode.
Here are some more pages by the team for this challenge. Details can be found in our gallery here. Enjoy the inspiration and peek into our lives.
Beth