Hi...Beth here for some altered art fun! A few months ago Michelle and I created some Nature Sketchbooks for her Digital Workshop article in Somerset Memories. The Feb/Mar 2009 issue shares how Michelle creates a digital nature sketchbook, and the upcoming Apr/May 2009 issue will show her process of making an altered book using digital sketchbook pages and an old book (shown below). Can't wait for this issue!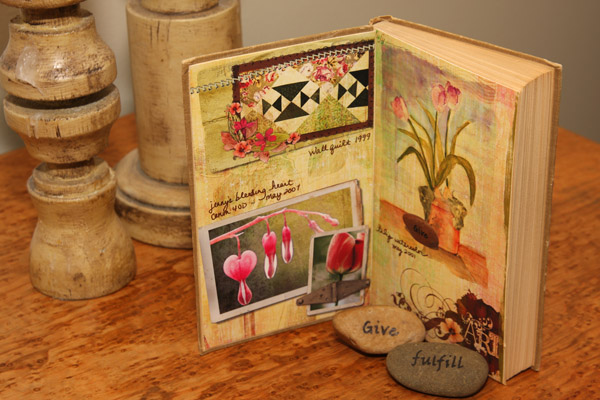 As a base for my sketchbook below, I used the cardboard envelopes you get your photos in from a photo lab (that would otherwise go in the recycle bin). Cheap! See our Sketchbook gallery for each page's details and click on images below for enlarged views.
Altered art has been around for a very long time, since people seem to possess an innate desire to find uses for interesting objects. Whether bold and shiny or weathered and torn, we take a liking to ordinary things and find ways to make extraordinary things. Your grandmother called it "gussie it up"; the 70's called it "jazz it up; the 80's "glam it up"; the 90's embellished everything and now, call it what you will ,but we are obsessed with "altering" most anything.
An altered artist has few, if any, boundaries. Using a single art medium would be too confining it seems. At some point, you will also find you can't alter art without using a "found object," which brings us full circle to being recycled art artists. Add that to your artistic resume of collaging, assemblage and layering…and well, I'm afraid the diagnosis is clear...you are hopelessly ALTERED.
Below is my high level process for creating a sketchbook from digital pages using lots of our nature art and Nature's Sketchbook series (Michelle's Digital Workshop articles and our site's tutorials go into detail about how to use an image editor to create digital pages). It really is a personal choice how to create hybrid projects and my techniques may or may not be ones you choose to follow, as you may have a favorite adhesive you always use or specialty papers, etc. Experiment, play, get dirty, and have fun!
1. Choose a book cover from "Nature's Sketchbook" Journals series and create your cover page on the right side of the journal. I used the old book cover in
Nature's Sketchbook Journals 2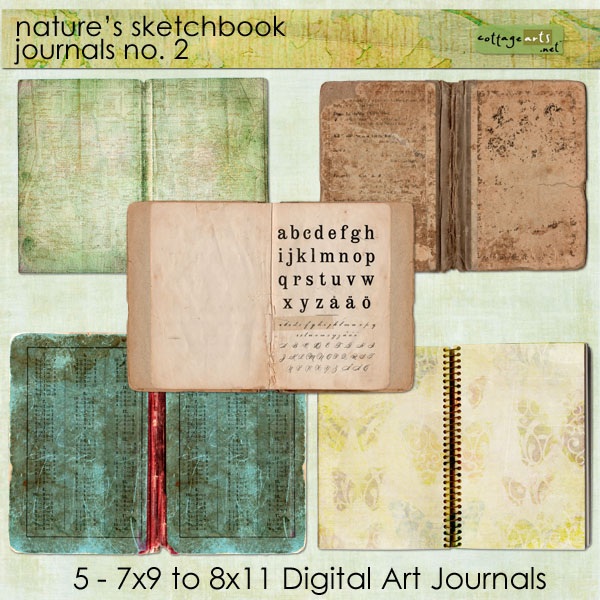 2. Choose a
Nature's Sketchbook Journal
that best suits your needs for your pages in your book (I chose the sage green old map journal from the same set above). When creating pages, keep in mind the left and right sides and where the placement of each page will be after nesting all your pages together to be sure they are in the correct order. This may take a bit of planning in advance. You may also need to resize the journals to fit the size of your end project...again, a bit of planning and math skills will come in handy here.
3. Print your cover and pages on white cardstock choosing a "landscape" format at whatever size you need. Mine was 7"x10" landscape format.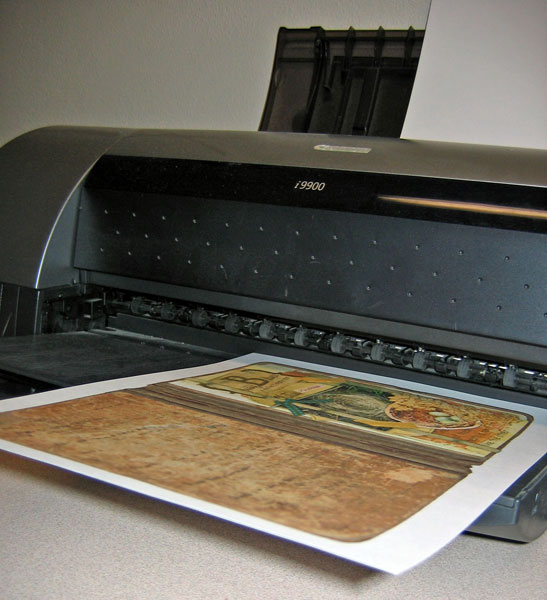 4. Cut off excess white edges at book line (Exacto knife and ruler, rotary cutter/rule/mat, or paper trimmer work well). Place your pages in the desired order, back to back. Cut off 1/8" of first set and continue doing this with all pages to assure room for nesting together.
5. Using a 5x7 cardboard photo holder (the type your old developed photos came in), fit your printed cover over this, but do not adhere till last step. This will give your book a nice, sturdy cover.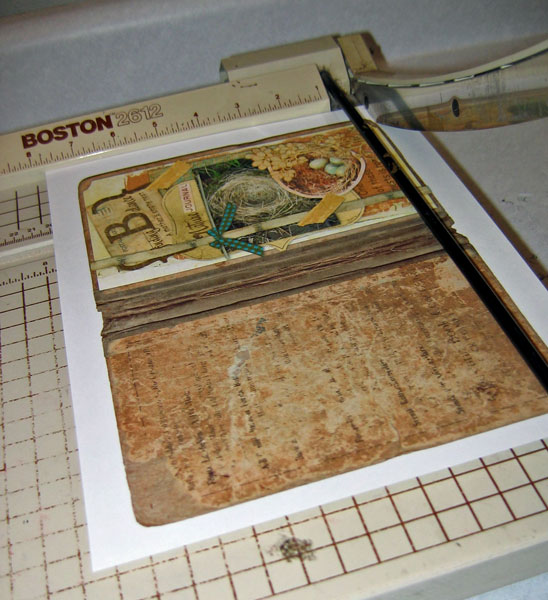 6. Adhere your pages back to back, again keeping track of order. Corner rounding edges works best. I love how textured and old this journal looks!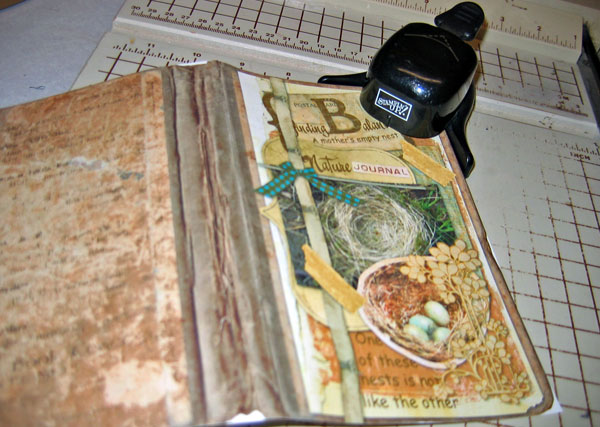 7. Using a bone folder and ruler, begin scoring pages at spine lines. For each set of pages, score an 1/8" towards center to assure room for nesting pages together.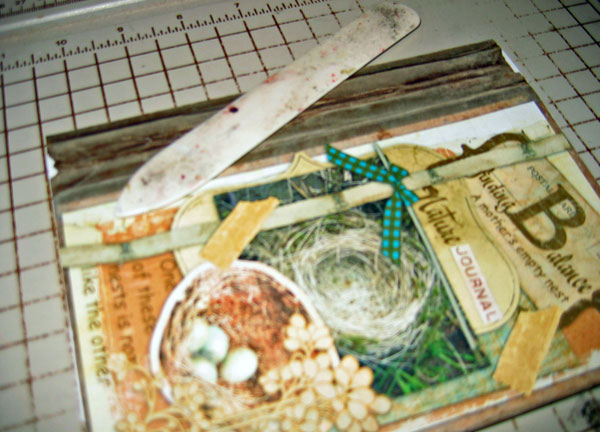 8. Nest all your pages together inside cardboard photo holder and staple at both top and bottom of spine several times.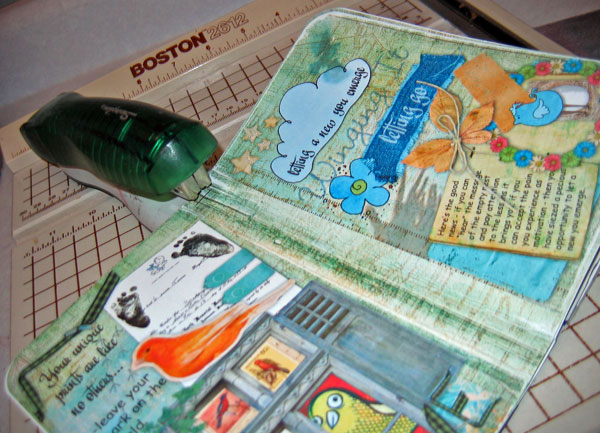 9. I chose to sand each page to give a distressed look and help reinforce your adhesive, but this is optional.
10. Place scored, folded cover over cardboard photo holder and adhere.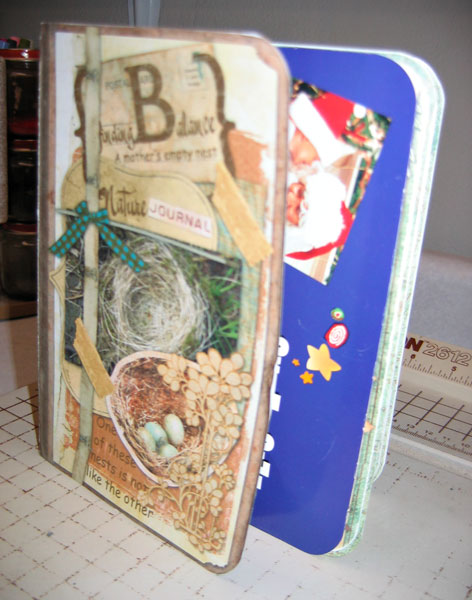 11. Tie a ribbon around spine to help tighten the binding and cover staples inside.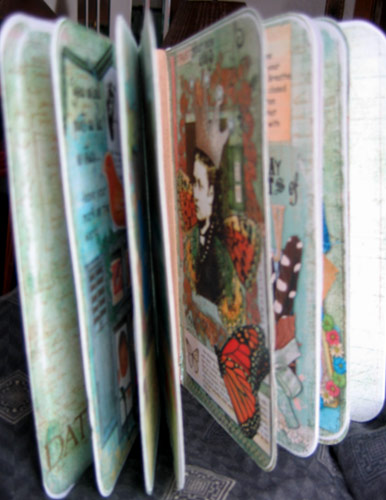 **Note…I chose to add blank journaling pages to the end of my book. I used the Notebook Overlay Paper from the It's My History kit (on the Learn Digital Scrapbooking with PSE 7 CD) and used an overlay blend mode on my journal pages from Nature's Sketchbook journals to match all my other pages.