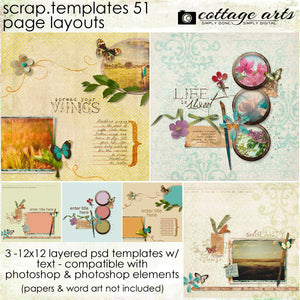 Scrap Templates 51 - Page Layouts
Regular price
$8.99
$13.99
Unit price
per
Note: Designer papers and word art on sample layouts not included in templates. See all of our Scrap.Templates here. Use our Scrap.Template series to speed layout creation by pasting your favorite papers and photos into the different colored shapes (each on their own layer). This set comes with 3 different 12x12 PSD Page Layouts with a sweet summery vibe. Includes mats, text layers, frames, photo masks/blocks, with butterfly & flower accents. Some elements have lifted shadows, some have shadow layer styles that can be tweaked to your tastes. Compatible with Adobe Photoshop and Photoshop Elements (will open in Paint Shop Pro...just won't recognize the drop shadow layer styles or text). Can re-size to other sizes and rotate or flip. Re-use elements on other layouts. Instructions included, plus a link to our on-line Clipping Masks tutorial.
Artists: Michelle Shefveland & Rachel Shefveland
Photographers, Videographers, Scrapbook Artists, and other digital artists...learn about our Professional Use License and purchase info here.

Page Pak Contents:
3 - 12x12 PSD mats, text layers, frames, photo masks/blocks, and accents
Instructions and link to on-line clipping mask tutorial (in Usage and Instructions.txt file)
Includes 3 PSD files
Resolution 300 dpi
Zip file download size: 37 MB
Below are descriptions of the Personal Use and Limited Professional Use License Options (you can pick which license for each product you order):

Personal Use License Agreement: All images contained on CD-ROM or download kit are the product of CottageArts.net and are protected by United States and International copyright law. This is a legal agreement between you and CottageArts.net, LLC. Read this agreement before you make purchase. By making Personal Use purchase you agree to be bound by the terms of this agreement.

CottageArts.net grants you a personal, non-transferable, nonexclusive right to load the images you have selected onto your computer hard drive. Any use, copying, adaptation, reproduction, or distribution for commercial/ professional purposes without the written permission of CottageArts.net is prohibited, unless Professional Use License option is selected during purchase. If you are unsure of your rights under this agreement or would like to use our products for professional use, see below for more information.

Limited Professional Use License Agreement
Note: Upon purchase of a Limited Professonal Use License option on a product, the following License Agreement applies to the product(s) purchased. For Panstoria/Artisan customers, please contact us here for information on purchasing a Limited Pro License.
A Limited Professional Use License is between you (either an individual or a single entity) and CottageArts.net™, LLC ("Licensor" or "us") and covers your use of the Simply Digital™ Product Line, related Graphics components, and documentation (all of which are referred to herein as the "Graphics").

BY PURCHASING THE LIMITED PROFESSIONAL USE LICENSE OPTION FOR EACH SIMPLY DIGITAL GRAPHIC CD OR DOWNLOAD KIT, THE INDIVIDUAL OR ENTITY LICENSING THE PRODUCT ("YOU") IS CONSENTING TO BE BOUND BY AND IS BECOMING A PARTY TO THIS AGREEMENT.

In order to allow professional photographers, scrapbookers, genealogical preservationists, and other photographic related artists to be able to obtain a license to use the Graphics for certain frequently requested Professional and non-personal uses, we have prepared this Limited Professional Use License. Only the limited professional or non-personal uses of the Graphics expressly described below can be licensed under this Limited Professional Use License. We have attempted to consider the various needs of our licensees. If you would like us to consider issuing a license for a commercial or non-personal use of the Graphics other than those described below, please contact us at licensing@cottagearts.net.

License Fee Payment; Limited Professional Use License.
Upon payment of the License Fee, Licensor grants you the non-exclusive, non-transferable right to install the Graphics on up to two personal computers, notebooks, or workstations for use by one single user (see below for back-up authorization). Upon payment of the License Fee you shall have a license (subject to the Termination provisions below) to install and use the Graphics in accordance with the terms of this Agreement.

Authorization. With this license you may by a single user:

1. Copy the Graphics into any machine readable form for backup or archival purposes in support of the Graphics on the single computer.

2. Use the files on the CDs or in the downloaded collections for which the License is purchased (one license required per CD or per downloadable kit) to create and sell custom works of art for others.

These works can take the form of printed copies or flattened computer files such as .jpg, .tif, .pdf, or .gif. These works must be substantially modified and personalized by inclusion of photographs and other images or journaling.

You may not under any circumstance sell, lend, or give away computer files created from the Graphics that contain layers including but not limited to .psd, pspimage, .png, etc.

Mass production of each custom work (more than 20 copies) is not allowed, as that is not considered a custom work.

3. Use the CDs or downloadable collections' Graphics according to our personal use license found above in the Personal Use License section.

4. Create marketing or publishing materials for others as a freelance graphic artist with Graphics, if paid a one-time fee or hourly rate by a vendor. An example of this use would be to design a book cover using Graphics. Written credit on printed material must be given to CottageArts.net in these cases.

5. Use Graphics to design your own commercial web site or commercial blog, as long as the site is unrelated to digital scrapbooking, graphic arts, or graphic design.

Restrictions on Use.

1. You may not claim the Graphics as your own. Copyright for Graphics retained by CottageArts.net, LLC.

2. You may not redistribute the Graphics without Licensor's prior written consent.

3. Although you may modify or alter the Graphics for your own use (including copies that extend, or enhance the Graphics), you may not distribute, transfer, or resell the modified or derivative copies of the Graphics (except as stated in Authorization clause above).

4. You may not create derivative works to resell to retailer.

5. You may not create derivative works to license to reseller.

6. You may not use Graphics in obscene or unethical manner.

7. You may not create derivative works for your employer.

8. You may not create templates for resale on web, eBay, Etsy, photo lab printers, or photo kiosks using Graphics.

9. You may not use such copies in a way that violates the terms of this Agreement.

10. You may not create marketing or publishing materials for your employer (see Authorization clause if you are freelance graphic artist).

11. The Graphics may not be used for direct, or indirect professional purposes without first obtaining a Professional Use License from Licensor that covers your intended use.

Licensor shall have the right to determine, in its sole discretion, whether a use is within the scope of the licensed uses described above. Any use of the Graphics for which you have not obtained a license from Licensor is expressly prohibited.

If your intended use fall outside the allowed uses, please contact us with specifics and we can provide a custom license rate for you.
---
Share this Product
---